"All the support you get is amazing. It's a really positive place."
- Young Person
Holistic Approach to Health & Wellbeing
Our aim is to promote the health and wellbeing of all our young people and to ensure that all aspects of their healthcare needs are met. The Holistic Health Team currently includes our Senior Nurse Practitioner and our Holistic Therapist. We are currently in the process of expanding the team to enhance the delivery of Holistic Interventions and the health-related aspects for young people.

Physical health Mental health Holistic therapy Wellbeing Support Team
Introduction to Health & Wellbeing
"Staff are nurturing. They always try to do the best for you and get the best outcome for you."
- Young Person
Physical Health
When young people arrive at with us our nurse introduces herself and starts an initial health assessment with them. This is followed up with a full health check by our local GP Practice if required.
The local GP, Dentist and Opticians visit on a regular basis and every young person is encouraged to attend appointments. Each young person has an individual confidential health care plan.
We regularly invite outside health promotion agencies to give talks and advice to the young people. This is needs-led and happens on an individual basis. Mental Health Advocacy, NHS Oral Hygienists and other specialists also offer group information sessions.
We have extremely close links with the Sandyford Sexual Health Clinic. They visit once per month offering advice, sexual health counselling, sexually transmitted disease screening and family planning advice. They also supported us to develop our sexual health programme and staff are trained for this by NHS Scotland Health Team.
A specialised team at the Royal Alexandra Hospital looks after any young women who are placed with us whilst pregnant. They attend the GSC when required and are on call for any problems or issues which may arise with a young person and their pregnancy.
We are part of the Renfrewshire School immunisation programme so any young person due immunisations have these completed.
"You get lots of opportunities. The opportunity to change and reflect."
- Young Person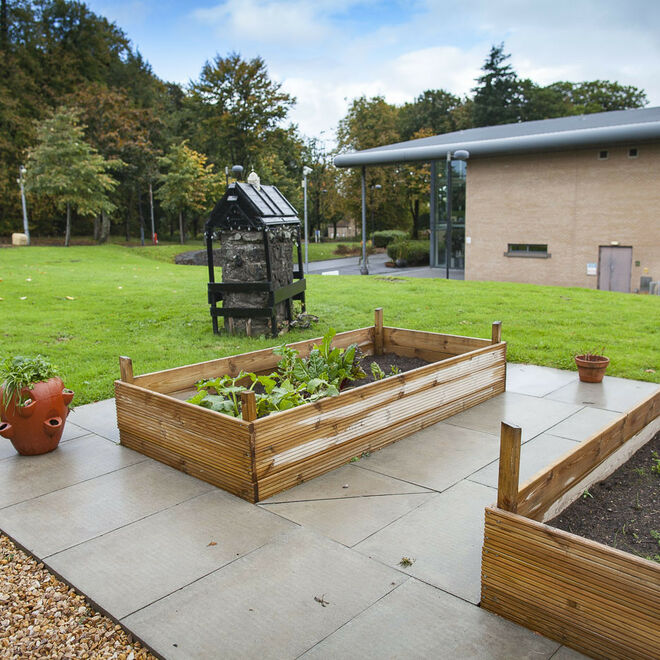 Mental Health
We know that for all of us, good mental health is the foundation for emotional and intellectual growth, underpinning the development of confidence, independence and sense of self-worth.
We also know that young people who come to stay at with us have most often experienced harm and difficulties in their lives. We fully understand how important it is that we care for their psychological wellbeing. All young people receive an initial mental health screening, if appropriate, a full mental health assessment is then completed.
We have a highly effective working relationship with Greater Glasgow and Clyde NHS. They provide Forensic Child and Adolescent Mental Health Services (FCAMHS) for young people who require their specialist support. The FCAMHS Team offer clinical advice and guidance to staff to support treatment plans for individual young people. They also offer out of hours emergency mental health care.
Our Multidisciplinary meetings involve FCAMHS and take place on a monthly basis. Our model of practice in relation to this holistic assessment and review of young people's mental health needs, vulnerabilities and risks, is highly regarded.

GSC strives to be trauma responsive, this means we are always thinking carefully about the day to day living and learning environment not just any treatment that young people may need. Young people who have experienced trauma need the adults who care for them to be consistently kind, nurturing and sensitive to their anxieties and fears. Because of this, we know that our staff need more than specific training programmes in mental health and wellbeing alone to equip them to meet young people's needs. In addition to training courses we also offer group and individual specialist advice and reflective supervision.
We have service level agreements in place with a number of specialists who regularly visit us to provide support and advice to staff on how to meet the needs of young people and develop effective care plans. Young people have access to onsite Clinical and/or Forensic Psychologists and Cognitive Behavioural Therapists.
"I've learnt that I'm patient, kind and caring. And I'm a better person than I thought I was."
- Young Person
"My time here has allowed me to turn things around for myself."
- Young Person
Holistic Therapy
We know that most of the young people who come to stay with us are functioning on a high level of anxiety. We also know from research and experience, that this continuation of stress and anxiety can have an effect on mental and emotional wellbeing and on physiology.
Holistic Therapy is a form of healing the body as a whole. It focuses on the physical, mental and spiritual aspects of a person to gain a balance of negative emotions and to improve a person's overall wellbeing.
The centre's therapy room promotes relaxation with the use of positive visualisation, soothing music, invigorating scents and adequate lighting to induce relaxation for our young people engaging in holistic interventions such as:
Indian Head Massage
Reflexology (Hand and feet)
Reiki
Facial Massage
Hand Massage
Swedish Massage
Deep Breathing sequences
Holistic Therapy has become a popular, therapeutic tool for young people across GSC. Individualised therapy sessions are highly sought-after and engagement within this area is remarkable. The focus of Holistic Treatments is to promote relaxation, provide psychoeducation around the body and mind and to help with self-regulation strategies. Our Holistic Therapist works closely with young people, providing additional support when required and adapting sessions to suit each young person's needs.
Introduction to Holistic Health
"The resources available within the Centre are a major strength. The relationships staff have with young people stood out to parents and carers."
- Care Inspectorate Review 2022
Wellbeing Support Team
The Wellbeing Support Team offers a holistic approach to promoting wellbeing.
We have a supportive culture, ethos and environment; the team maximises this through offering individual and group programmes and activities that help young people to learn and develop their knowledge, understanding, skills, capabilities and attributes.
We take a 'whole systems approach' to interventions with young people in our care, involving colleagues across Holistic Health, the Care Houses, our School, Psychologists, Consultant CBT Therapist and External Partners.
Focused Interventions are offered on an individualised basis, depending on young people's understanding of their past experiences, and their current needs and future goals. A variety of differing interventions are offered which can help young people to explore anger or violence issues, offending, anxiety and stress, substance misuse, harmful sexual behaviour, and bullying.
We focus on supporting young people to develop coping skills for healthy relationships, emotional recognition and management, making healthy choices, and effective communication.
We also offer themed group work and family therapy, this work can continue with young people, their families and carers after young people move on from GSC.
The Intensive Support Houses and Wellbeing Support Team work collaboratively and in partnership with community-based health and social care providers such as Fire Scotland, Greenock Prison, Barnardos, Invest Renfrewshire, NHS Health Improvement Team, British Red Cross, Street League and more.