Back to news
Mr John Swinney visits The Good Shepherd Centre
24 August 2017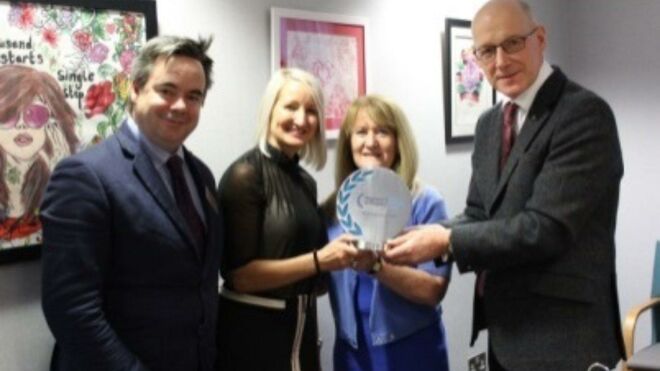 Mr. Swinney was at the centre in order to present us with the prestigious Investors in People Health & Wellbeing Award. After a light refreshment, efficiently served by one of our hospitality students, Mr. Swinney took the opportunity to walk round the centre to meet staff and young people and get an idea of the exemplary work being undertaken within the Good Shepherd Centre.
At the beginning of his tour Mr. Swinney expressed particular praise for the on-line invitation he received which was produced by young people within the media class, indicating how impressed he was by the creativity involved in its production. He then proceeded to visit young people at work in Hospitality, Science, Hairdressing, Media and Practical Craft where our teacher Mr. Tommi Hallam presented the Deputy First Minister with a model of a World War 1 aircraft built from recycled materials by one of our students. Mr. Swinney took the opportunity to talk to young people in each class he visited and asked them their views on being accommodated within the Good Shepherd Centre. The young people responded honestly and, we are happy to note, favourably.
Mr. Swinney next visited House Unit 1 where he again spoke to both staff and young people and where he was able to note the comfortable, stimulating and nurturing environment provided to all.
Mr. Swinney then conducted a 30 minute consultation with young people within the library area. Again the young people responded with honesty and appreciation for the work carried out at the Good Shepherd Centre, both with and for them.
The Deputy First Minister concluded his visit by conversing with the management team. In this conversation he was frank in his recognition of the good work being carried out within the centre and the positive impression he was left with by the young people.
It was a pleasure for all concerned to be a part of this visit as it gave us the opportunity to celebrate the successes of our young people and the pride which we all have in our organisation. Mr. Swinney was left with a standing invitation to revisit us at any time, an invitation which we sincerely hope he will be able to accept some point in the near future.